Chicken Skewers
Chicken tenders grilled on wooden skewers and basted with your choice of either peanut, Buffalo wing, or barbeque sauce
Cheese Sticks
Garlic breaded provolone cheese sticks served with either ranch or marinara sauce
Chips & Salsa
A spicy combination of tomatoes, jalapeños, onions and seasonings served with fresh tortilla chips
Chips and Queso
White, pepper jack cheese with jalapenos and onions served with tortilla chips
Spinach Dip
Our homemade spinach dip served with fresh tortilla chips
Shrimp Cocktail
Shrimp served with our house-made cocktail sauce
Shrimp Skewers
Shrimp grilled and seasoned on wooden skewers and basted with soy sauce.  Served with cocktail or peanut sauce
Pretzel Bites
Hot pretzel bites served with sides of queso cheese and spicy mustard
Fried Pickles
Lightly hand breaded and fried pickle slices served with a side of ranch
Pigs in a Blanket
Small sausages wrapped and baked in biscuit dough and served with spicy mustard
(Lantern Tacho's)
Lantern Meatballs
Beef meatballs served in a garlic butter sauce, served with toast points
Fried Zucchini
Hand battered zucchini chips fried and served with a ranch dipping sauce
Fried Pork Rinds
Fried pork skins tossed with a spicy Sriracha seasoning
Fried Green Beans
Battered green beans fried and served with a ranch dipping sauce
Chili Cheese Fries
Crispy fries topped with chili, cheese, jalapenos, and onions
Bacon Wrapped Stuffed Jalapeños
Jalapeno halves stuffed with cream cheese then wrapped in bacon and served with ranch dressing
Lantern Nachos
Tortilla chips topped with chicken or beef, white queso, tomatoes, onions and fresh jalapeños
Two meat combo
Tatcho's
Tator tots topped with chicken or beef, white queso, onions, and jalapeños
Quesadilla
Your choice of beef or chicken in a crispy grilled tortilla with melted cheese served with sour cream, guacamole, and pico de gallo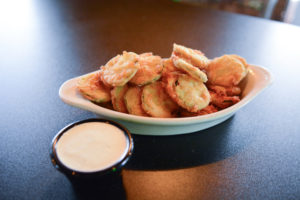 (Fried Zucchini)
BURGERS
Served with your choice of french fries, curly fries, rosemary fries or tater tots
Lantern Burger
Our handmade and seasoned burger served on a toasted bun with lettuce, tomatoes, onions, and pickles; with choice of mayo or mustard
Add:
Cheese … Mushrooms …  Jalapeños … Sautéed Onions… Green chilies … Bacon
The Big Lantern Burger
Two freshly made burger patties topped with bacon, grilled ham, jalapenos, American cheese, Swiss cheese, lettuce, tomatoes, onions, and pickles; with mayo or mustard. Served with curly fries or tater tots
Hickory Burger
Our handmade and seasoned burger topped with barbecue sauce, American cheese, grilled onions, and pickles
Black & Blue Burger
Our handmade and seasoned burger topped with bacon and blue cheese crumbles and served on a toasted bun; with mayo or mustard
Green Chili Cheese Burger
Our handmade and seasoned burger topped with sautéed green chilies and white American cheese served on a toasted bun with lettuce, tomatoes, and onions
SANDWICHES
Served with your choice of french fries, curly fries, rosemary fries or tater tots
Spicy Chicken Sandwich
Grilled seasoned chicken breast served   ciabatta roll with grilled jalapenos and white American cheese
Blackened Chicken Sandwich
A blackened chicken breast topped with white American cheese and served with lettuce, tomatoes, onions, pickles, and mayo
Turkey Pastrami Reuben
Turkey pastrami, Swiss cheese, grilled sauerkraut and spicy mustard on grilled sourdough bread
French Dip
Thinly sliced roast beef served on a ciabatta roll with melted cheese, lantern bistro sauce, and au ju dipping sauce
Lantern Club
Grilled sliced oven roasted turkey breast, ham, crisp bacon, white American cheese, lettuce, pickles, and secret sauce served on toasted sourdough bread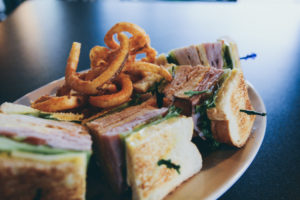 (Lantern Club)
Thanksgiving Sliders
Three mini turkey, stuffing, and gravy sandwiches with sides of gravy and cranberry sauce, served with curly fries
Hot Ham and Cheese Sliders
Three hot ham and cheese sliders on toasted mini buns, served with curly fries
Cheeseburger Sliders
Three mini burgers sautéed with onions and jalapenos, topped with white American cheese on toasted mini buns, served with curly fries
Fish & Chips
Fried cod fish fillets served with French fries and sides of tartar sauce and malt vinegar
Fish Tacos
Three fried or grilled cod tacos served in crispy corn tortillas with aioli sauce; topped with shredded lettuce, fresh pico de gallo, cilantro, and cheese
Chicken Tenders & Fries
Handmade spicy chicken tenders served with a side of white gravy for dipping, and your choice of regular or curly fries
Chicken Caesar Wrap
Grilled or blackened chicken breast tossed with romaine lettuce, parmesan cheese, and Caesar dressing rolled in a flour tortilla. Served with choice of side
Southwest Grilled Chicken Salad
Mixed greens tossed with chipotle ranch dressing and pico de gallo, topped with sliced garlic-pepper grilled chicken, and parmesan cheese
Chef Salad
Mixed greens with turkey, ham, tomatoes, blue cheese crumbles, cucumber, and shredded cheddar cheese. Served with your choice of dressing
Chicken Caesar Salad
Grilled or blackened chicken breast, Romaine lettuce, parmesan cheese and croutons mixed with Caesar dressing
Buffalo Chicken Salad
Fresh spring mix topped with tomatoes, blue cheese crumbles, and sliced fried chicken tossed in buffalo sauce, served with jalapeno ranch dressing
Lantern Pizza
Nine inch personalized cheese pizza
Add any of these toppings for an additional cost:
Pepperoni, Sausage, Ground Beef, Canadian Bacon, Pineapple, Mushrooms, Jalapenos, Onions, Bell peppers, Black Olives, Green Chilies
Upside-down Pizza
Personalized pizza with cheese on the bottom and tomato sauce spiraled on top
Veggie Pizza
Personalized cheese pizza topped with mushrooms, jalapenos, onions, bell pepper, and black olives
BBQ Chicken Pizza
Personalized cheese pizza topped with barbeque sauce, grilled chicken, and red onions
Meat Lovers Pizza
Personalized cheese pizza topped with pepperoni, sausage, ground beef, and Canadian bacon
Buffalo Chicken Pizza
Personalized cheese pizza topped with buffalo hot sauce, grilled chicken, and drizzled with ranch dressing
Supreme Pizza
Personalized cheese pizza topped with pepperoni, sausage, Canadian bacon, bell peppers, onion, mushrooms, and black olives
Pesto Pizza
Personalized cheese pizza topped with pesto sauce, diced chicken, and mushrooms
Smothered Breakfast Burritto
Eggs, chorizo, potatoes, refried beans and cheese rolled in a 10" tortilla smothered with queso, enchilada and ranchero sauces, topped with pico de gallo.
Green Eggs & Ham Sandwich
Eggs scrambled with our homemade green sauce served on a hoagie roll with Taylor ham and melted white American cheese.  Served with hash browns.
Breakfast Sandwich
Eggs your way with American cheese and your choice of meat on an English muffin or biscuit.  Served with hash browns.
Huevos Ranchero
Eggs your way over a lightly fried corn tortilla topped with ranchero sauce and cheese with hash browns and refried or charro beans and choice of meat.                                                                                                         
Enchilada Plate
Three cheese or beef enchiladas topped with a fried egg.  Served with choice of refried or charro beans.
Two Egg Breakfast
Two eggs any style with choice of meat and served with hash browns and toast.
Biscuits and Green Chili Gravy
Two buttermilk biscuits covered in green chili gravy.  Served with choice of meat and hash browns.
Pancakes
Three stacked pancakes served with butter and maple syrup.
French Toast
Four pieces of sourdough French toast with powdered sugar, butter and maple syrup.